¡Hola chicxs! ¿Qué tal? El finde va llegando a su fin y toca ir cogiendo energía para el comienzo de la nueva semana. Pero también significa que hay contenido nuevo en el blog, así que espero paséis un rato agradable. Hoy os voy a enseñar un look deportivo, muy cómodo y de tendencia.
Ya sabéis lo fan que soy de los looks sporty, los adoro. Y es que en mi día a día siempre busco la comodidad, para mí es muy importante, pero sin renunciar a ir con estilo. En este look he juntado un look sporty con un total white. Últimamente me ha dado mucho por los looks en blanco, siempre me han gustado, pero es ahora cuando más me están llamando la atención, dan ese aspecto de "impecable" que me encanta. Para este look he escogido un pantalón fluido, fino, con rayas laterales en amarillo, azul, verde y negro. Tiene un aire deportivo pero también elegante, por lo que es muy versátil. Y aunque en las fotos no se aprecie, es de tiro alto y sienta muy bien. Lo he combinado con una sudadera de adidas, con aire retro, tiene diversos logos, cuello ligeramente subido y cremallera lateral desde el cuello hasta el hombro. Para crear capas, bajo la sudadera he incluido una camisa, para que asome por debajo. He dado el toque de color con los complementos. Llevo una riñonera en color amarillo, al igual que las gafas de sol. Y he querido complementar el look dándole un toque especial al peinado, por ello he hecho una coleta en la que he colocado varias gomitas y así crear una coleta de burbujas. En lo que se refiere al calzado, quería algo muy básico, así que llevo zapatillas deportivas, lisas, también en blanco.
Muchas gracias por visitar el blog, espero que os guste y que os inspire. Os mando un beso muy fuerte y os espero aquí el próximo domingo. Feliz semana.
Hello guys! How are you? The weekend is coming to an end and it is time to catch energy for the beginning of the new week. But it also means that there is new content on the blog, so I hope you have a nice time. Today I'm going to show you a sporty look, very comfortable and trendy.
You know how I love sporty looks. In my day to day I always like to wear comfortable, for me it is very important, but without giving up dressing stylish. In this look I have put together a sporty look with a total white. Lately I´m in love with looks in white, I've always like them, but now they get my attention, this "impeccable" appearance that I love. For this look I have chosen a fluid, thin pants with side stripes in yellow, blue, green and black. It has a sporty touch but also elegant, so it is very versatile. And although it is not seen in the photos, it is high waist and they make a very pretty silhouette. I have combined it with an adidas sweatshirt, with a retro style, it has different logos, slightly turtleneck, and with a side zip from the neck to the shoulder. To create layers, under the sweatshirt I have included a shirt, so it looks below. I have given the touch of color with the accessories. I´m wearing a fanny pack in yellow, and sunglasses in the same color. And I wanted to complement the look with a special hairstyle, so I made a tail in which I placed elastic bands and in this way create a tail of bubbles. About the footwear, I wanted something very basic, so I´m wearing sports shoes, also in white.
Thank you very much for visiting the blog, I hope you like it and inspires you. I send you a very strong kiss and I´ll waiting for you here next Sunday. Happy week.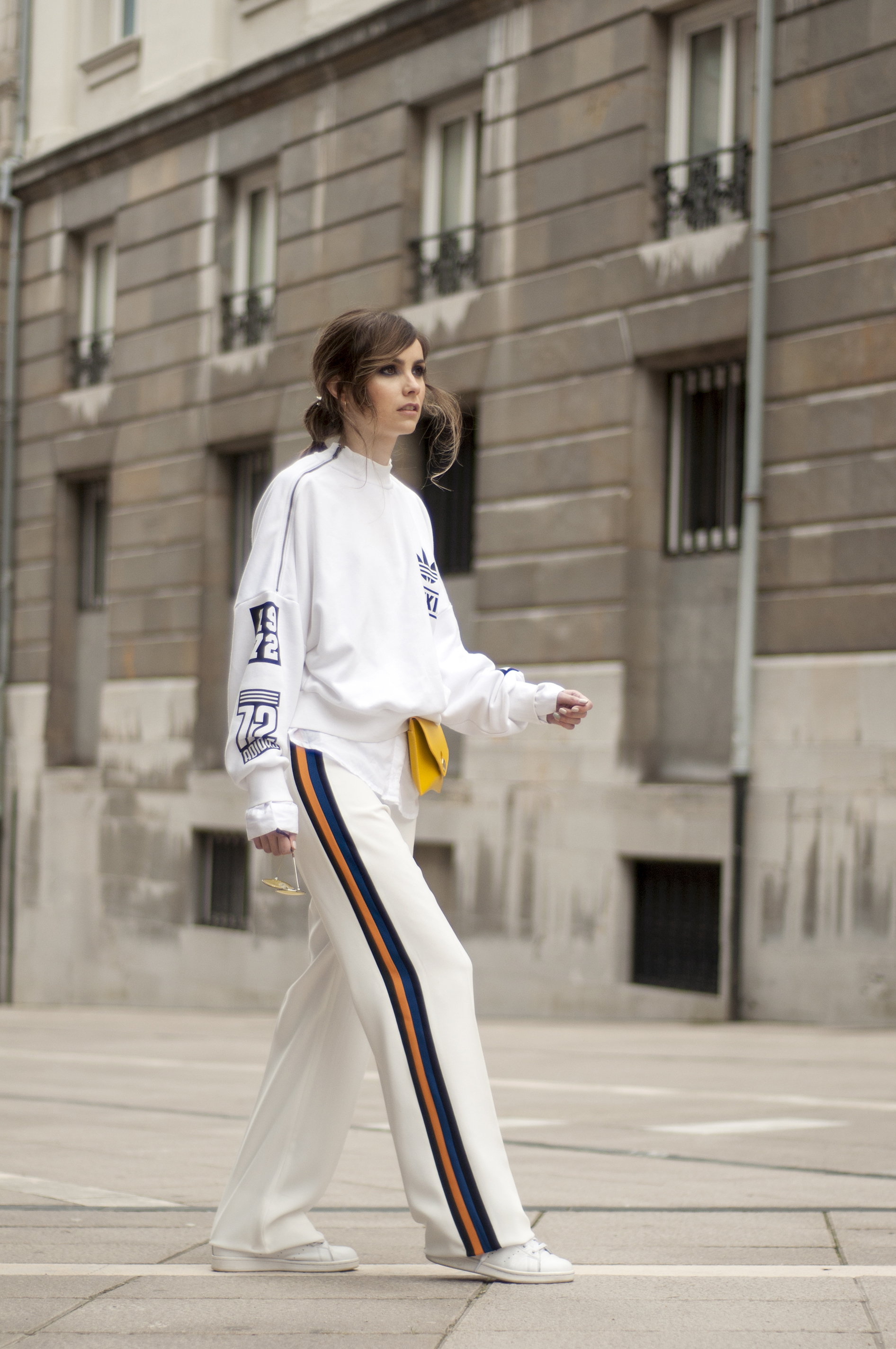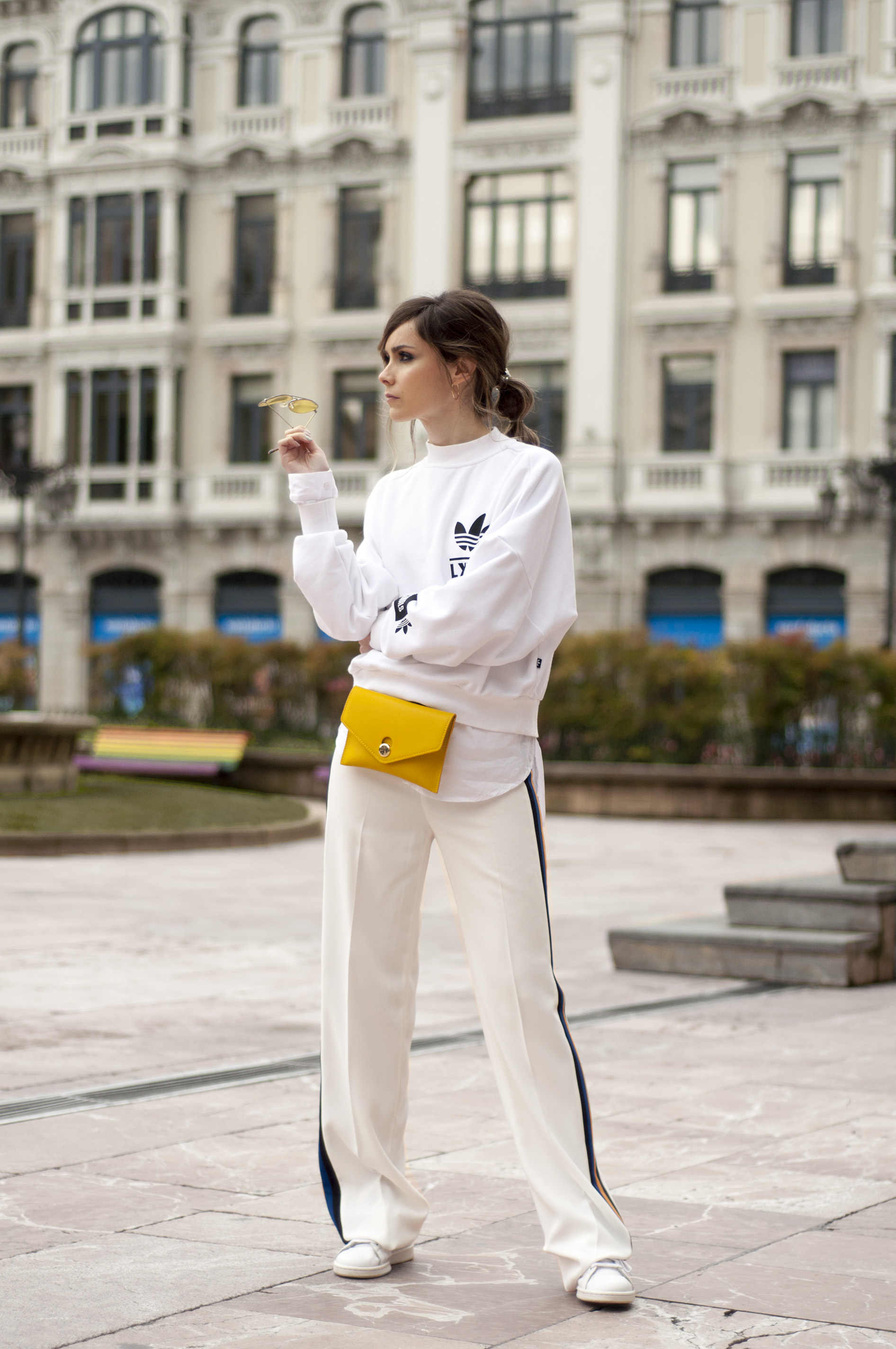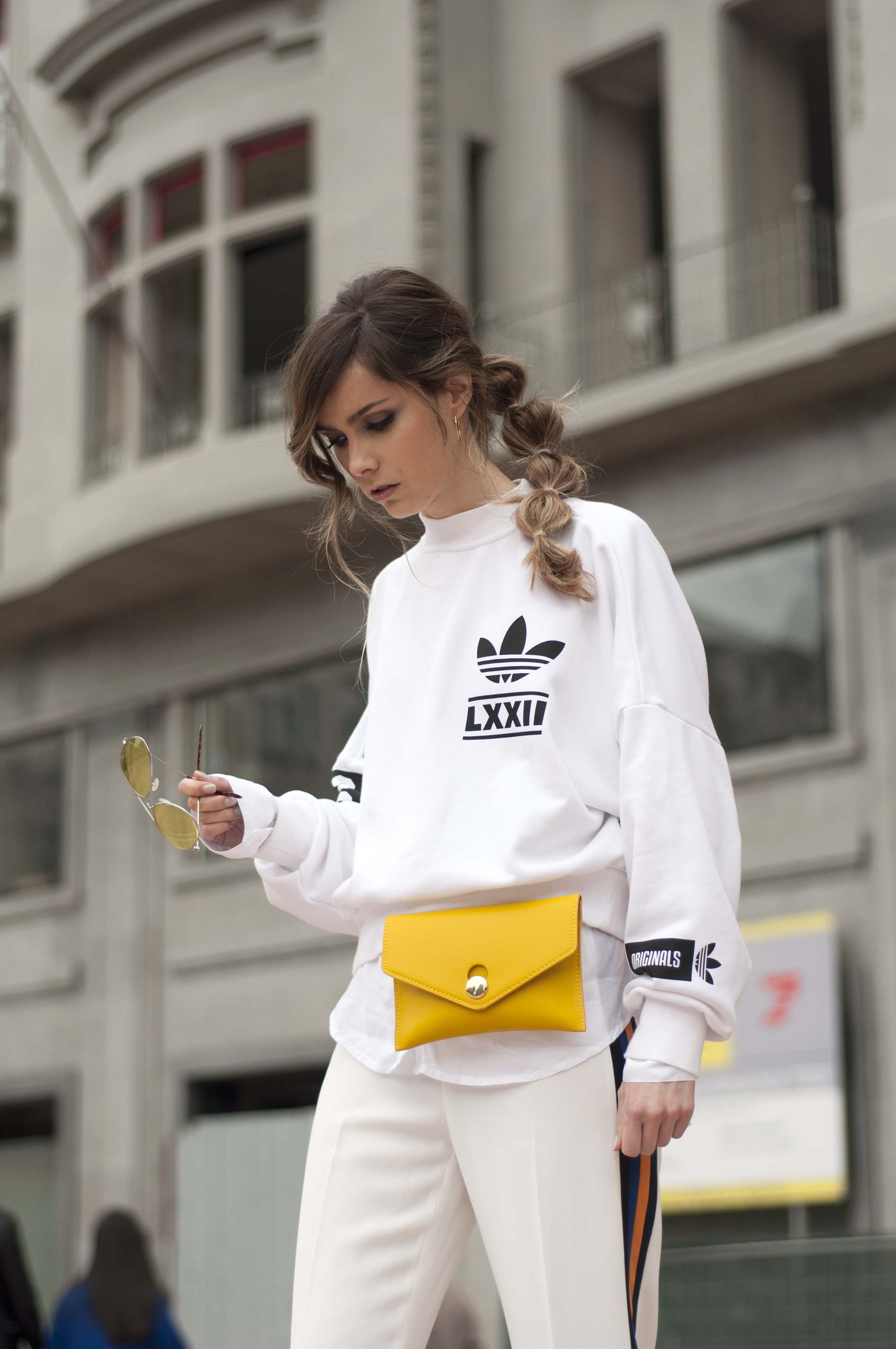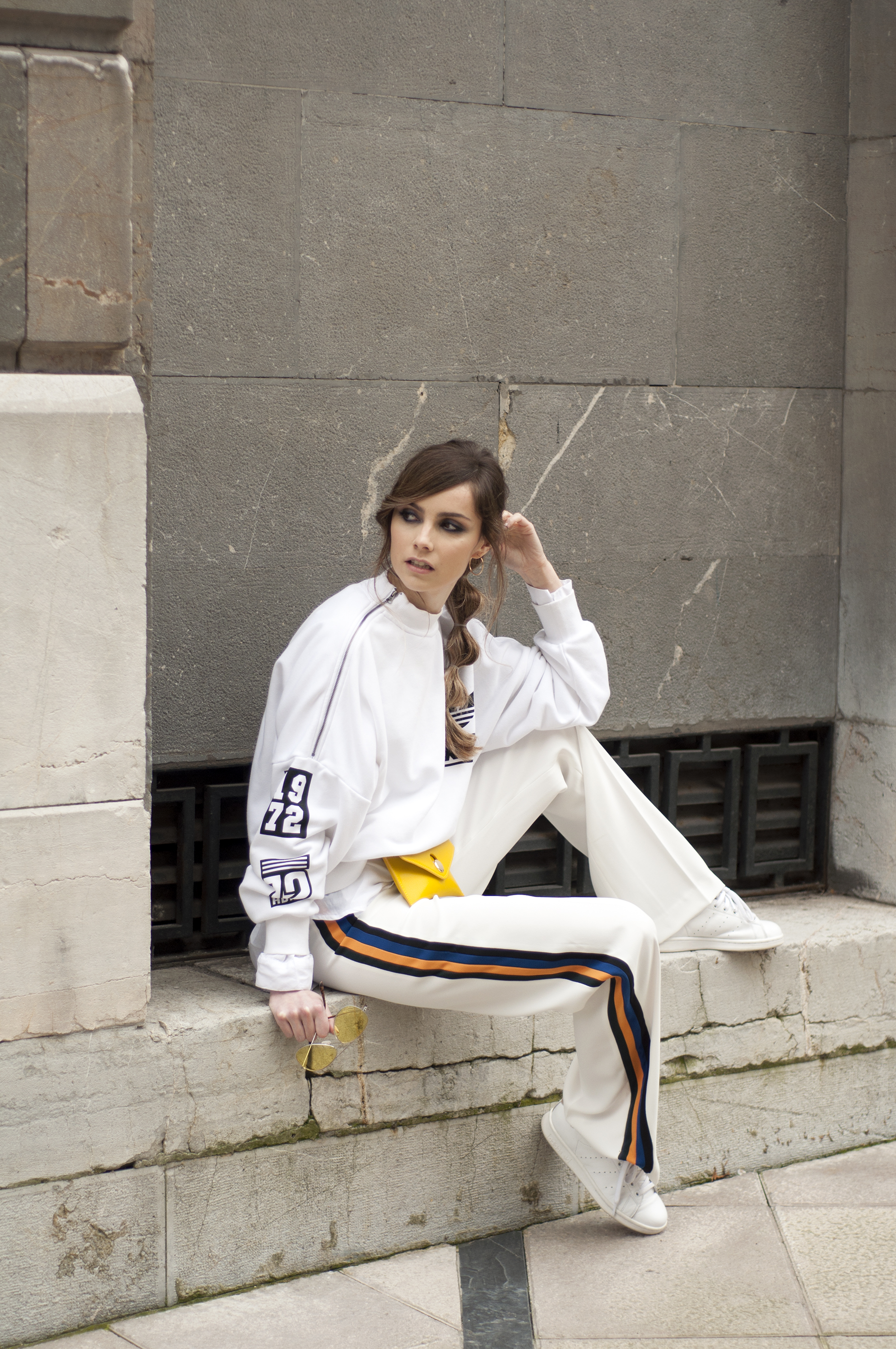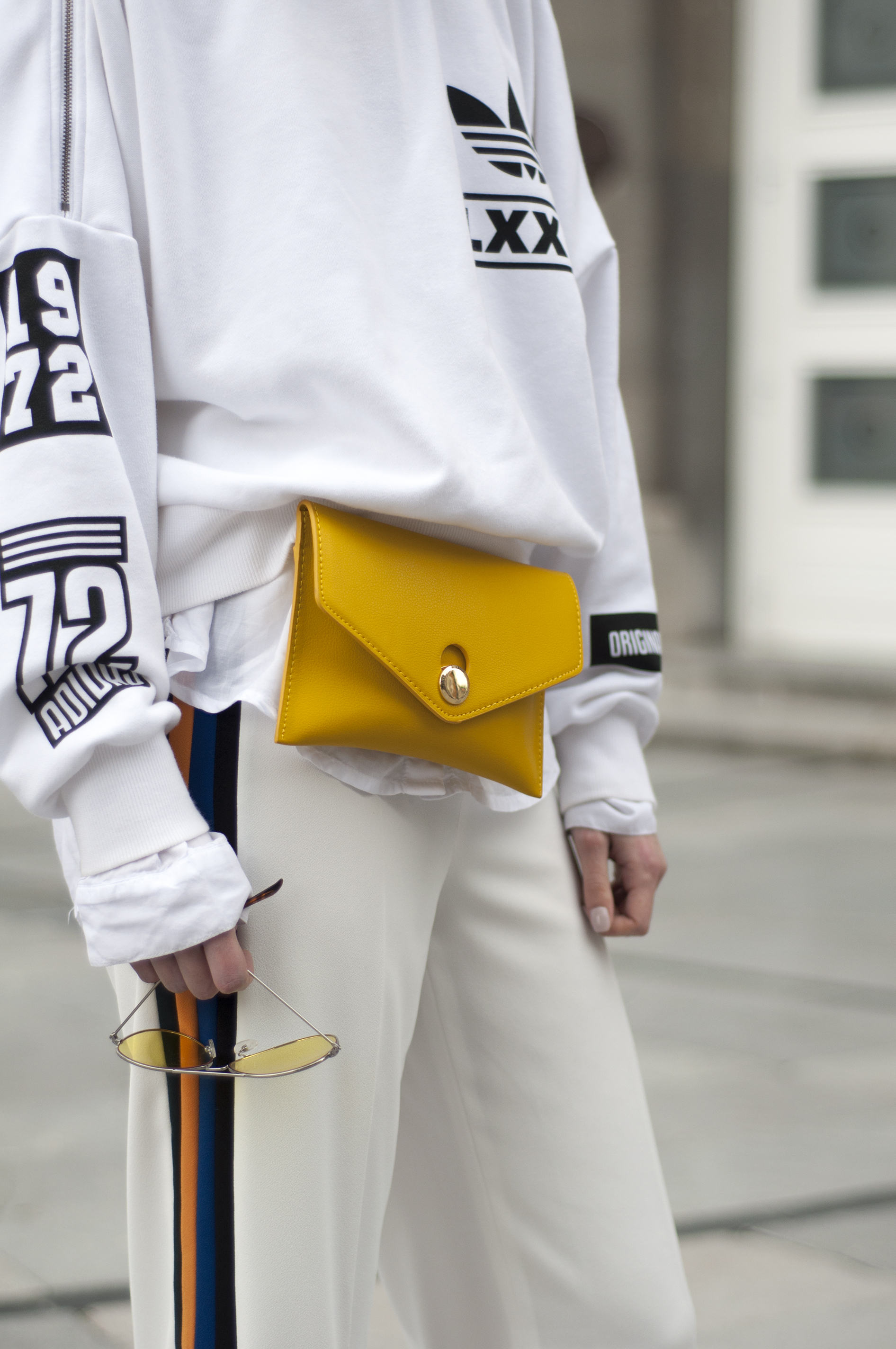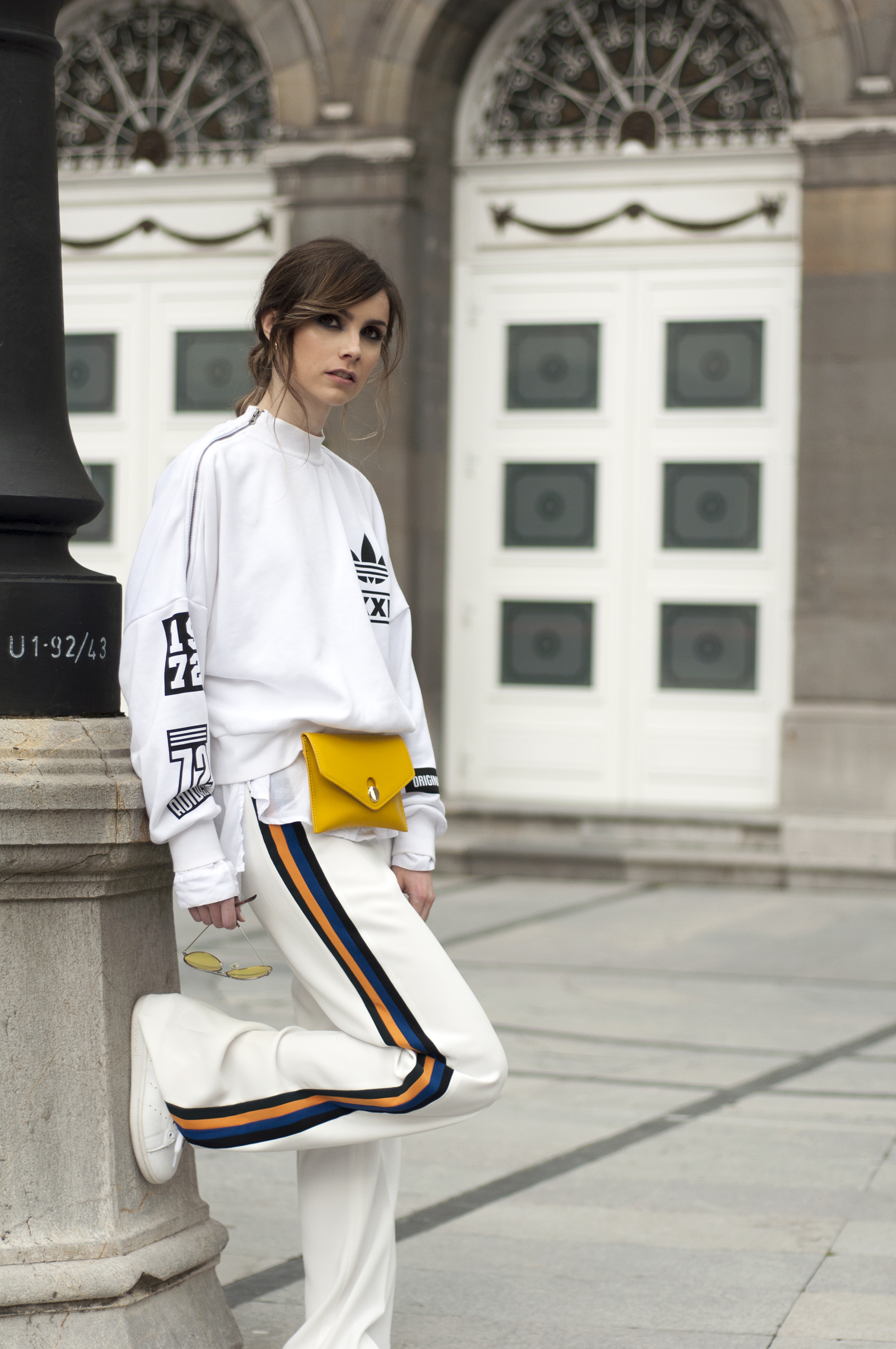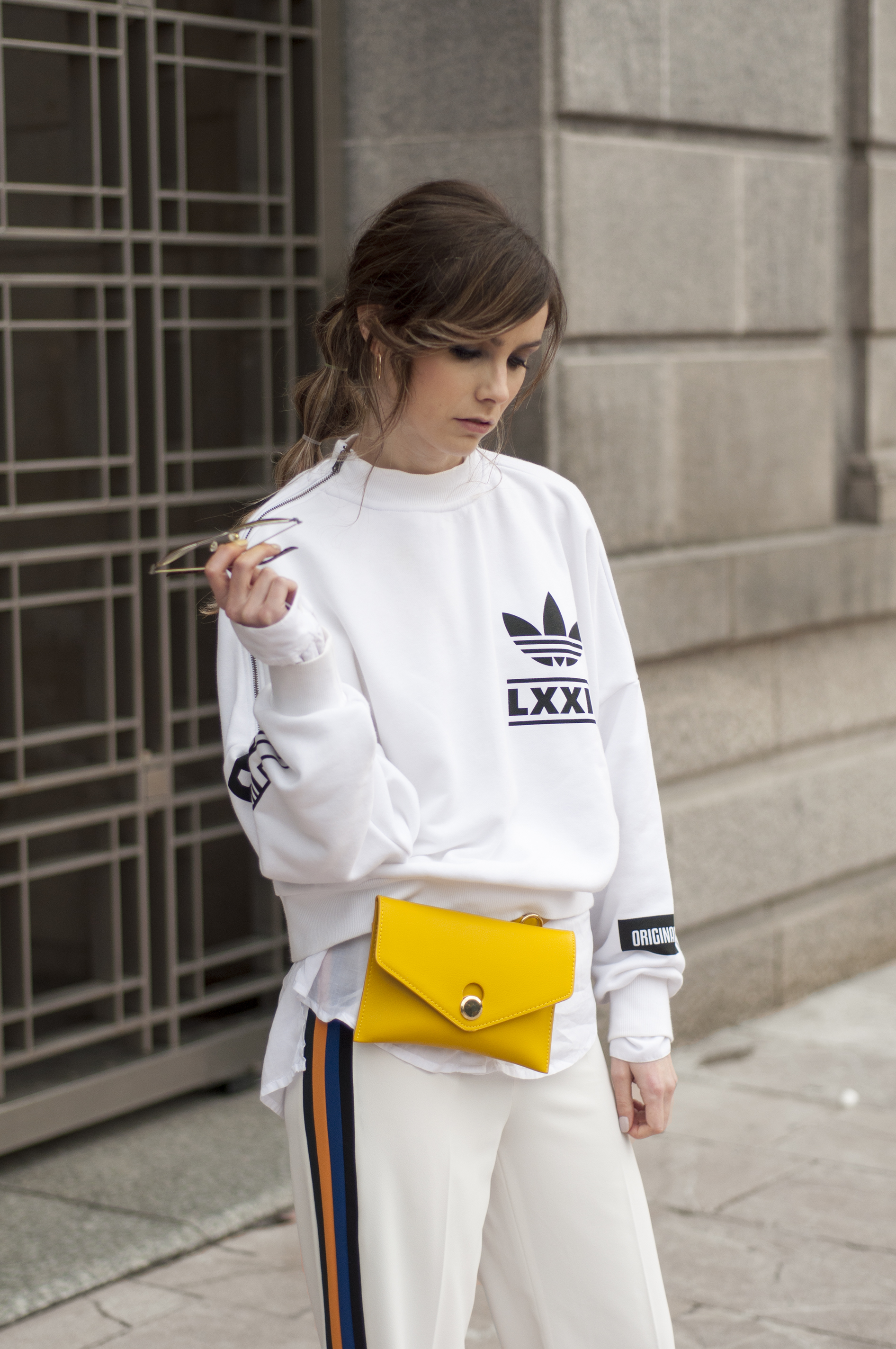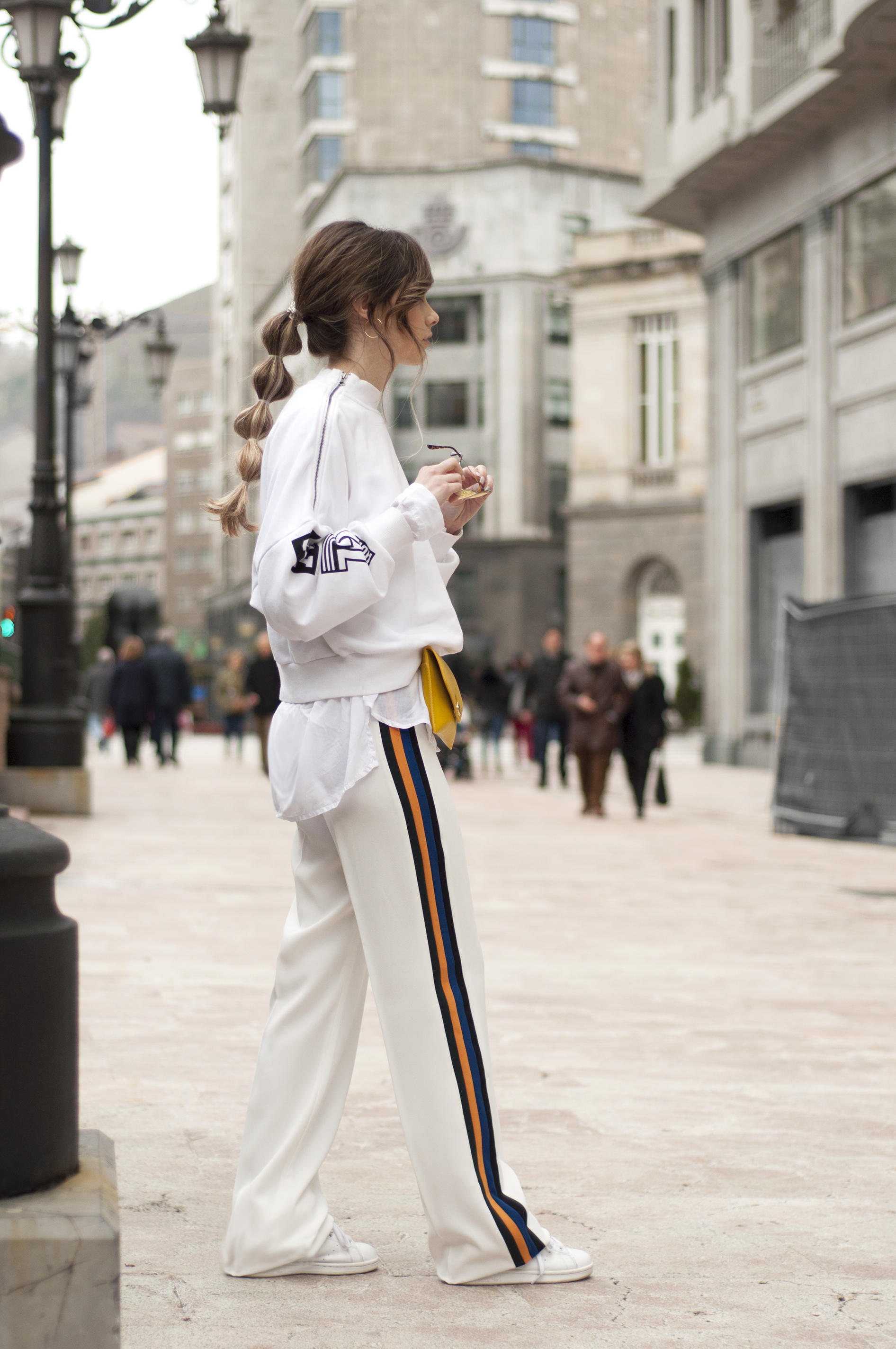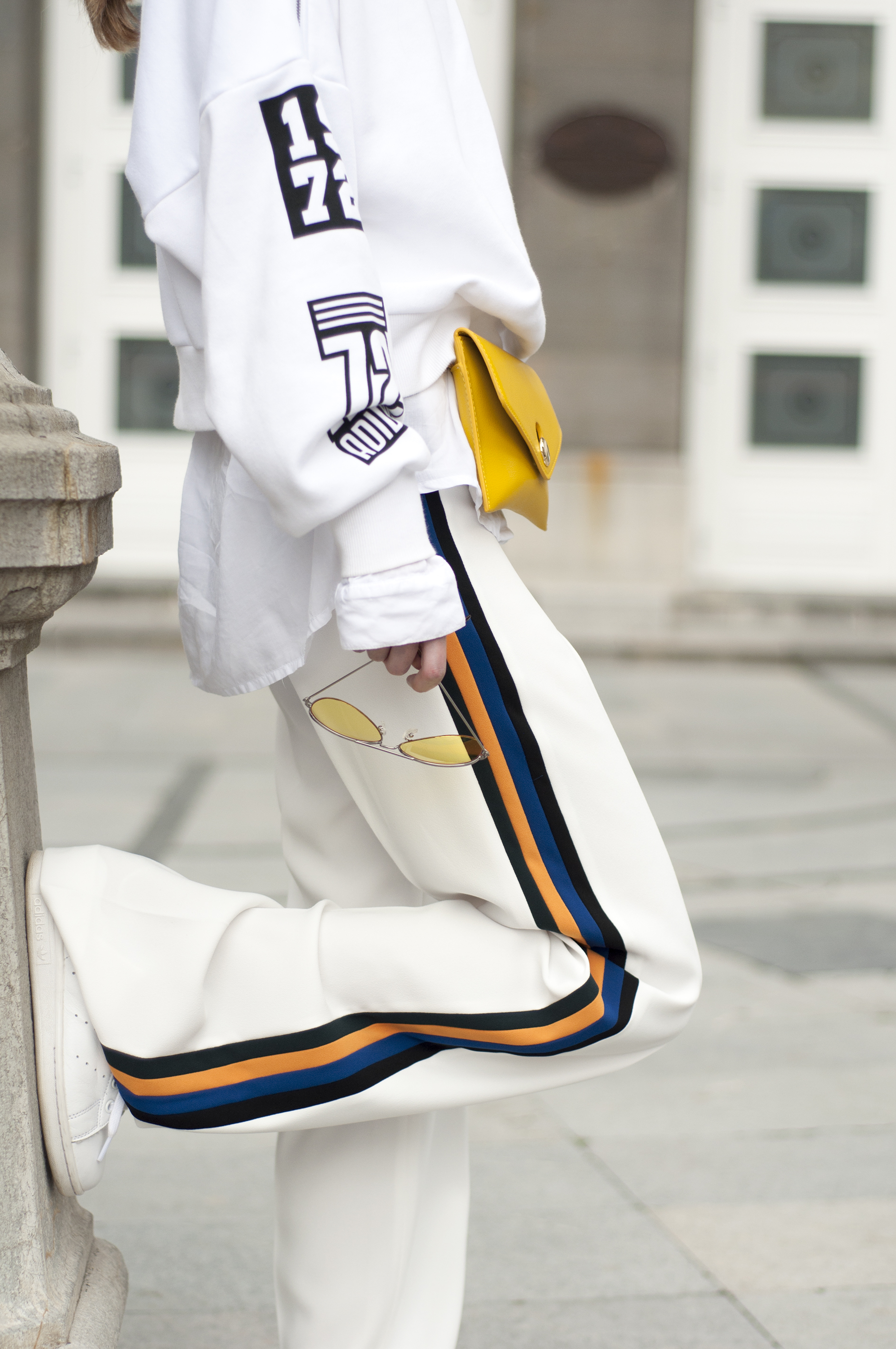 Pantalón/pants: Zara
Sudadera/sweatshirt: Adidas (old)
Camisa/shirt: Zara (old)
Riñonera/fanny pack: Zara
Gafas de sol/ sunglasses: Stradivarius (old)
Deportivas/ sneakers: Adidas Stan Smith