¡Hola chic@s! ¿Qué tal? El post de hoy es un poco diferente. Me gustan mucho las camisetas, esa prenda tan básica e informal, que me apetece enseñar cómo yo las suelo combinar, y así dar ideas de manera que vayamos cómodas pero sin renunciar a ir con estilo. Así que aprovechando que el otoño está a la vuelta de la esquina, he creado tres looks de entretiempo con camisetas de nueva colección de la firma Regaliz Negro, una marca asturiana que hace ilustraciones en ropa (camisetas, cazadoras, sudaderas…), accesorios, y complementos, con diseños tanto propios como personalizados, "si tú lo puedes imaginar ellas pueden pintarlo". Son diseños muy originales y creativos, echadles un vistazo porque seguro que os van a encantar. Y ahora comencemos, espero que os guste:
Hi guys! How are you? Today´s post is a bit different. I like so much T-shirts, that basic and informal garment, and for this reason I want to show you how I style them so I give you ideas to wear comfortable and stylish. Autumn is coming and I have create three looks for this season with T-shirts from Regaliz Negro, a spanish brand that make illustrations on clothes and accessories with own designs or if you prefer this brand design customized illustrations for each customer. They are very creative, check your page because I´m sure you´ll love it.
Total denim
Todo lo que necesitamos es una camiseta clarita, unos jeans, una cazadora vaquera y accesorios como gorros, gorras, pañuelos o bufandas para darle un poco de rollo a este look denim. Yo he escogido una camiseta con motivos marineros y el mensaje "love is love", mom jeans con rotos y una chaqueta vaquera oversize con lazos de cuadros de vichy cruzados, tanto en mangas como en espalda, en color rojo y negro. Como calzado llevo las clásicas converse all star. El toque al look se lo dan tanto la gorra marinera como el pañuelo atado al cuello.
We need a light T-shirt, denim jeans and jacket and accessories (beanies, caps, handkerchiefs and scarves) to make this denim look cooler. I have chosen a T-shirt with navy details and the text: "love is love", ripped mom jeans and an oversized denim jacket, it´s lace up on sleeves and back with a strip of vichy in red and black. I´m wearing my classic converse all star. Finally, the navy cap and the handkerchief tied around the neck, gives the touch to the look.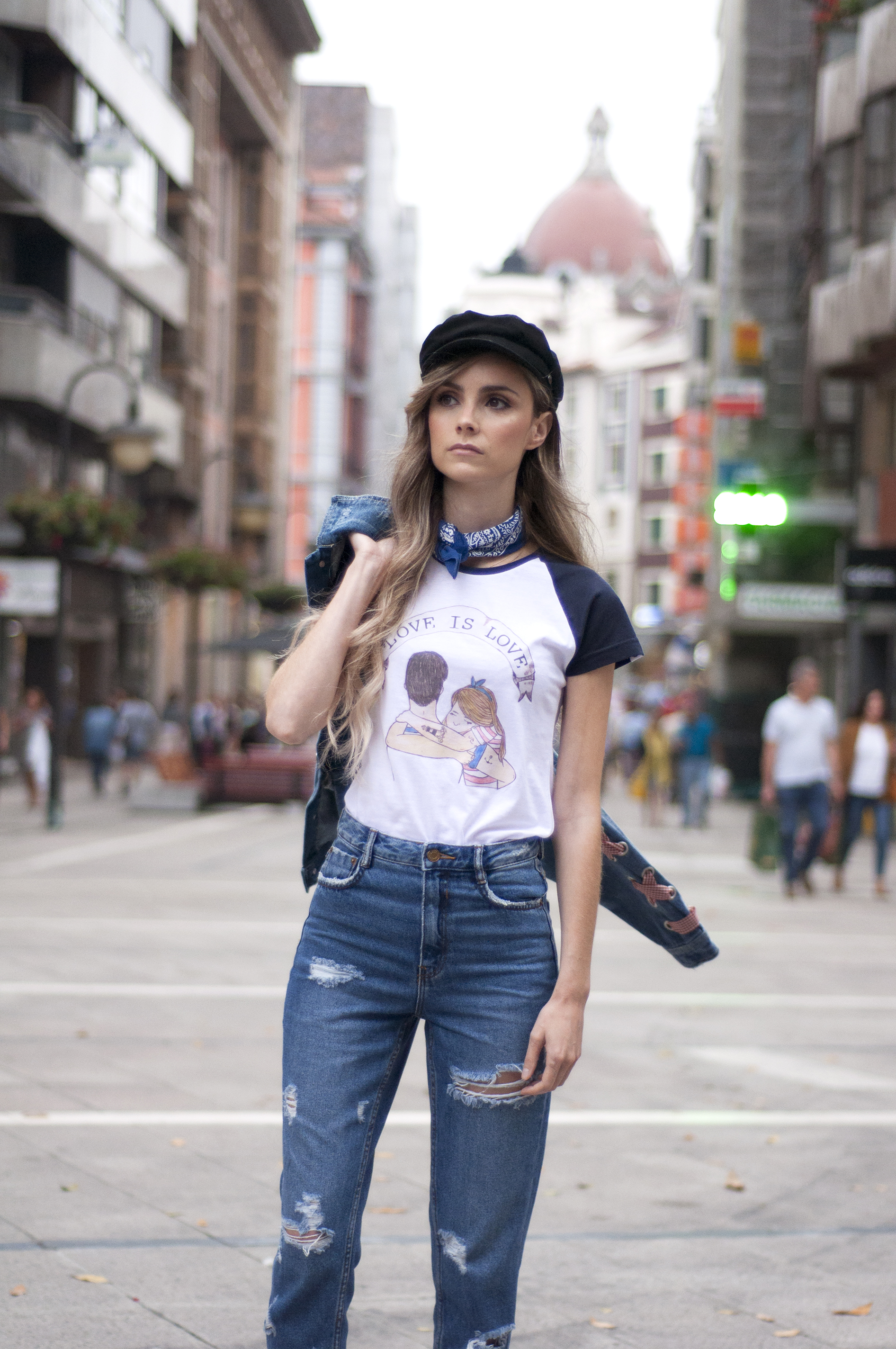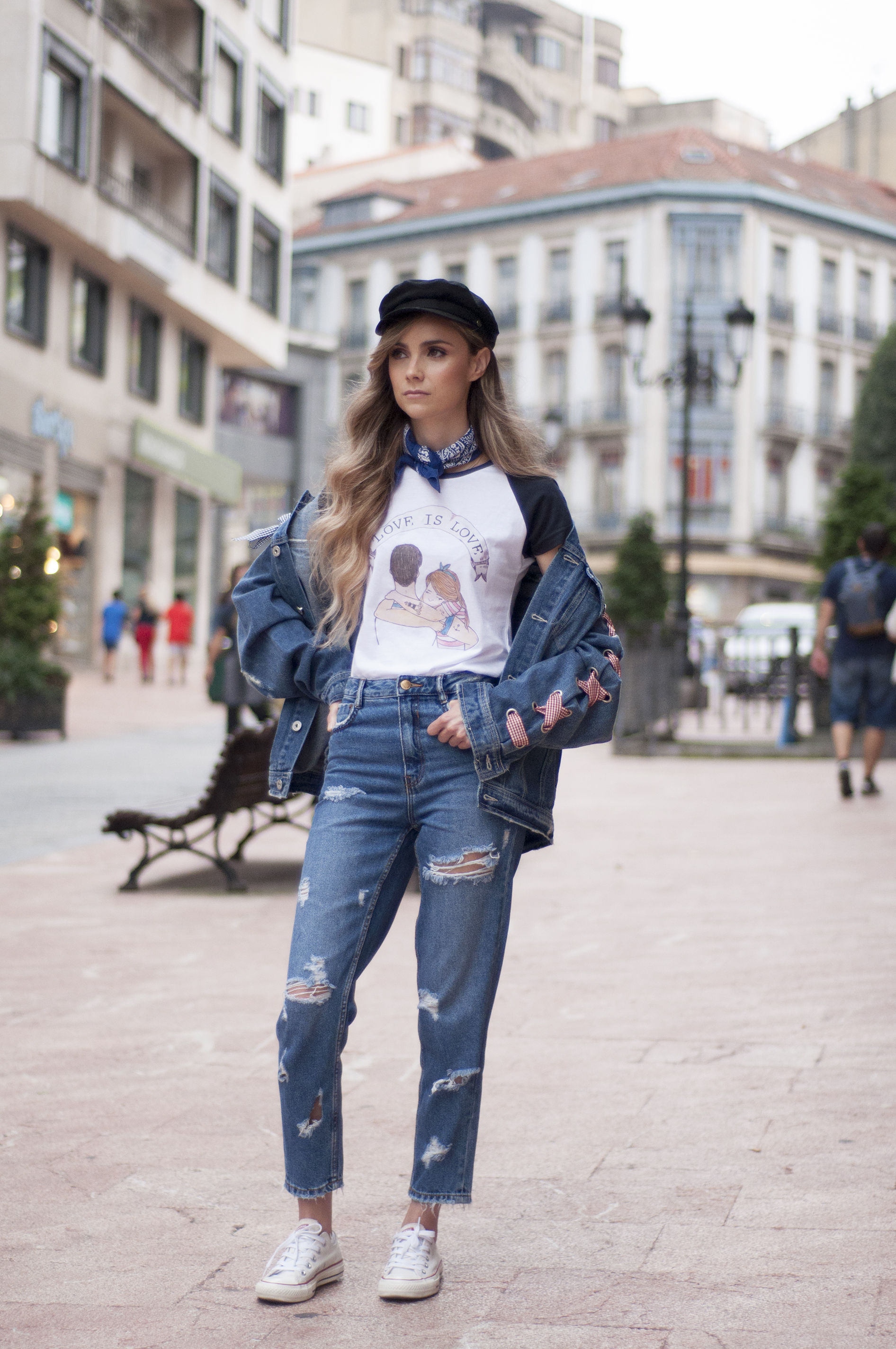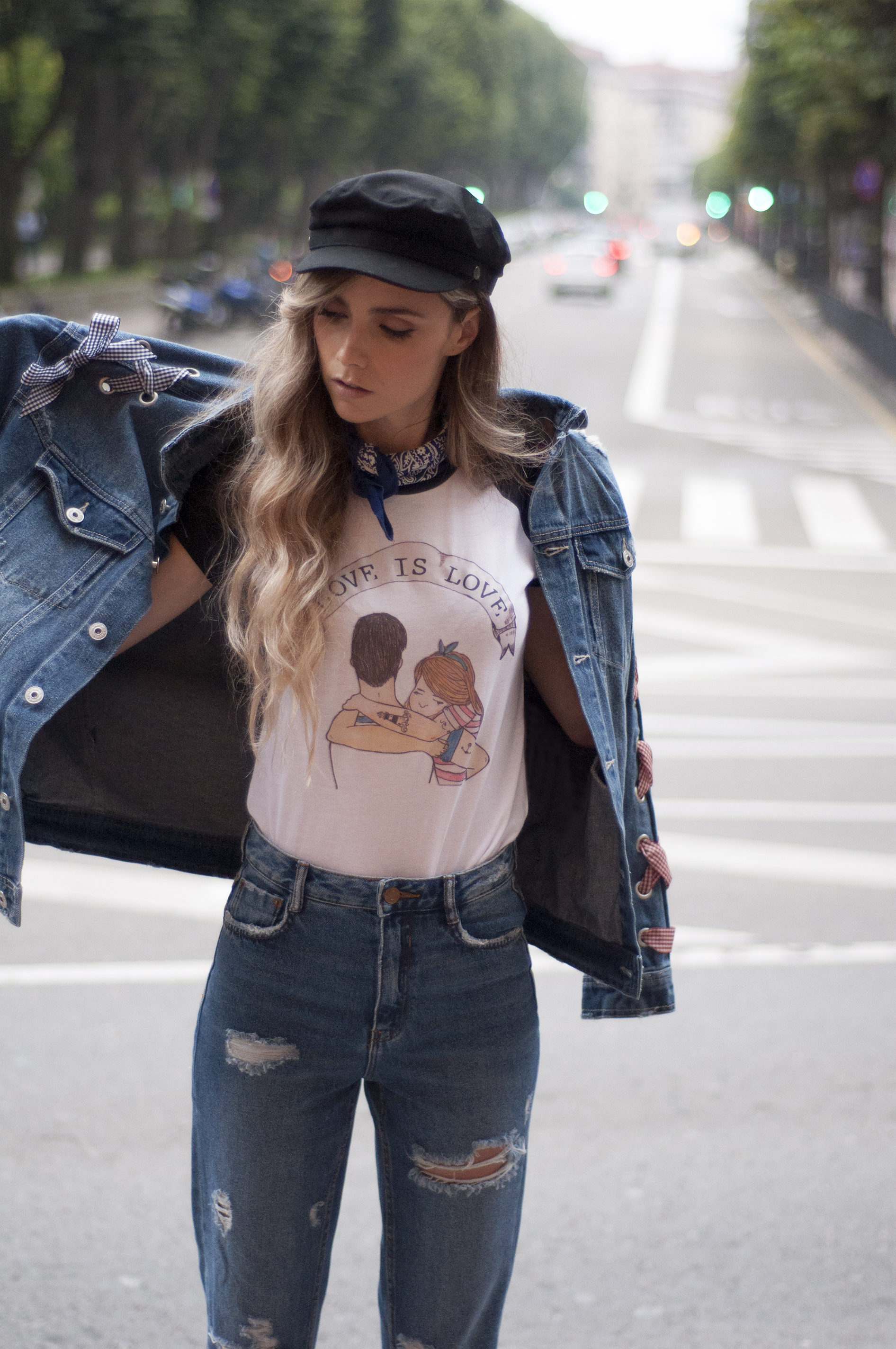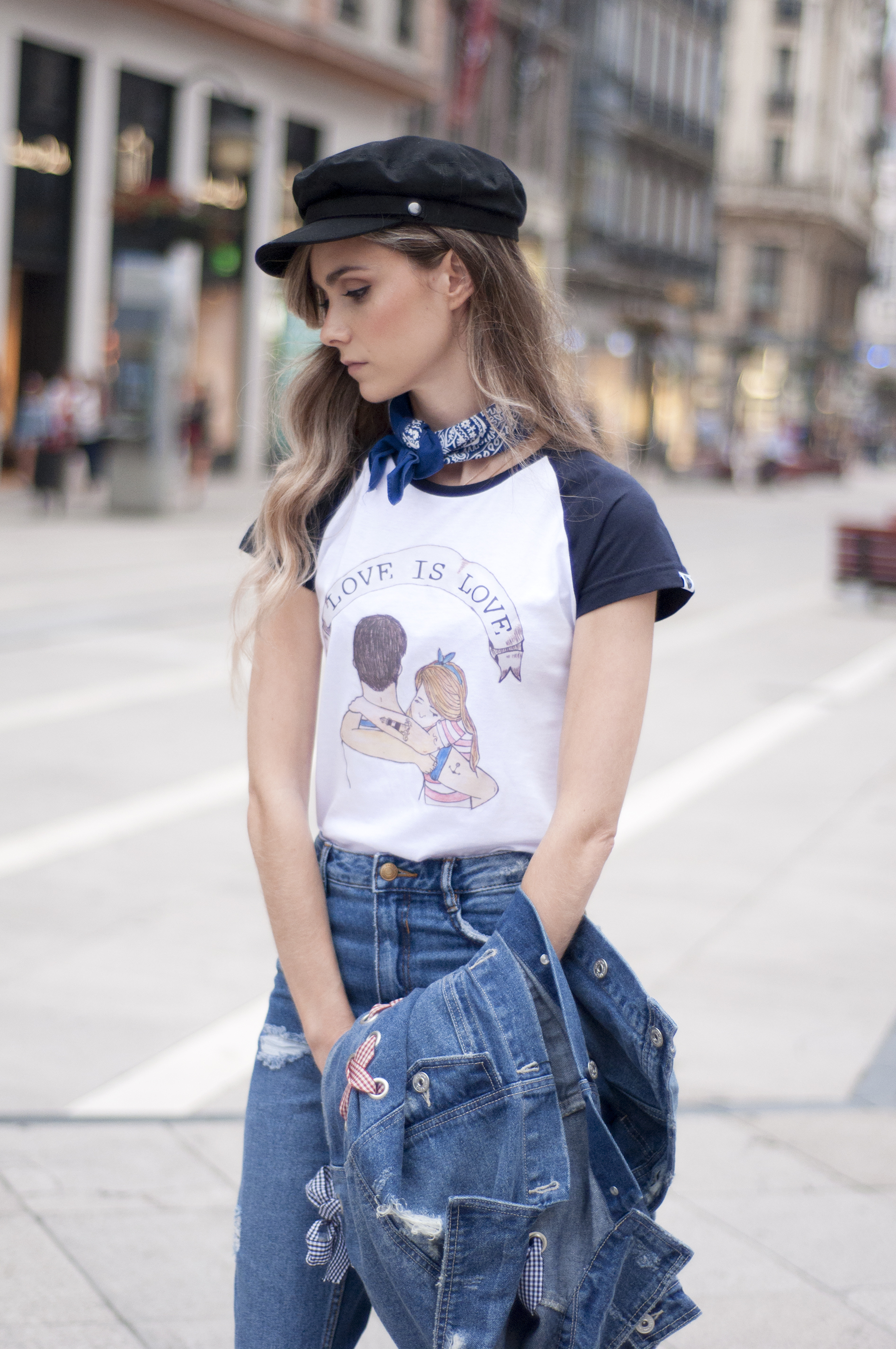 Camiseta/T-shirt: Regaliz Negro
Cazadora vaquera/Denim jacket: Zara
Mom jeans: Zara (old)
Deportivas/sneakers: Converse All Star
Gorra marinera/navy cap: Stradivarius
Oversized T-shirt and skirt
Una camiseta oversize con una falda que marque la cintura es otra de las combinaciones a las que suelo recurrir cuando me apetece un estilo más lady. En esta ocasión, llevo una camiseta con color, concretamente en rosa, que he combinado con una falda negra de antelina con flecos. En cuanto al calzado, llevo botines cut-out con hebillas y calcetines de rejilla para contrastar un poco con la camiseta. Lo he acompañado con un bolso con cadena también en negro, para que el toque de color se lo lleve la camiseta.
An oversized T-shirt with a fit skirt at the waist is another of the combinations that I usually use when I want to wear a lady style. On this occasion I´m wearing a colorful T-shirt, in pink, which I have combined with a suede black skirt with fringes. Also I´m wearing cut-out booties with buckles and fishnet socks to contrast with the T-shirt, and black bag with chains, in this way the T-shirt is the protagonist.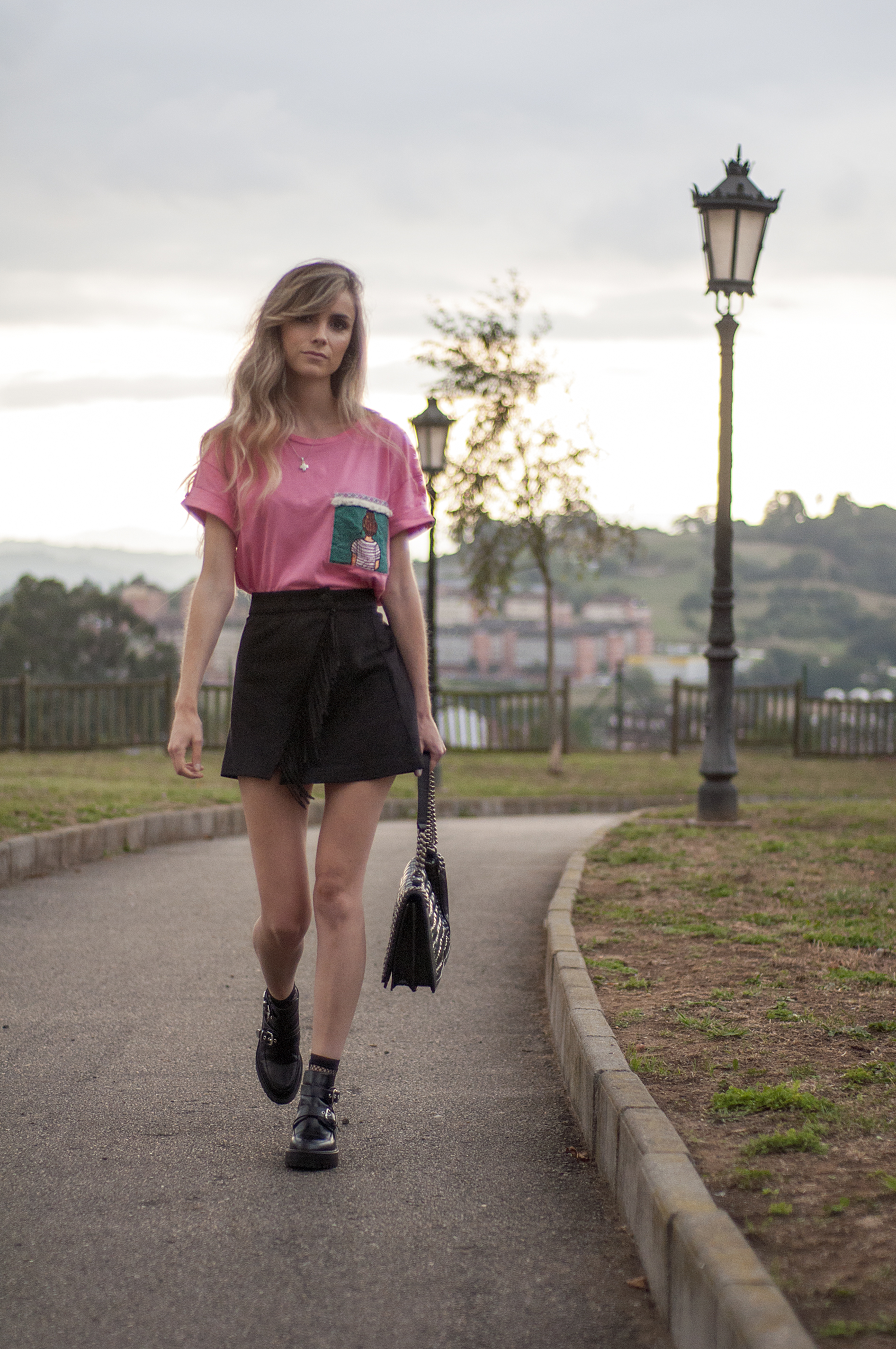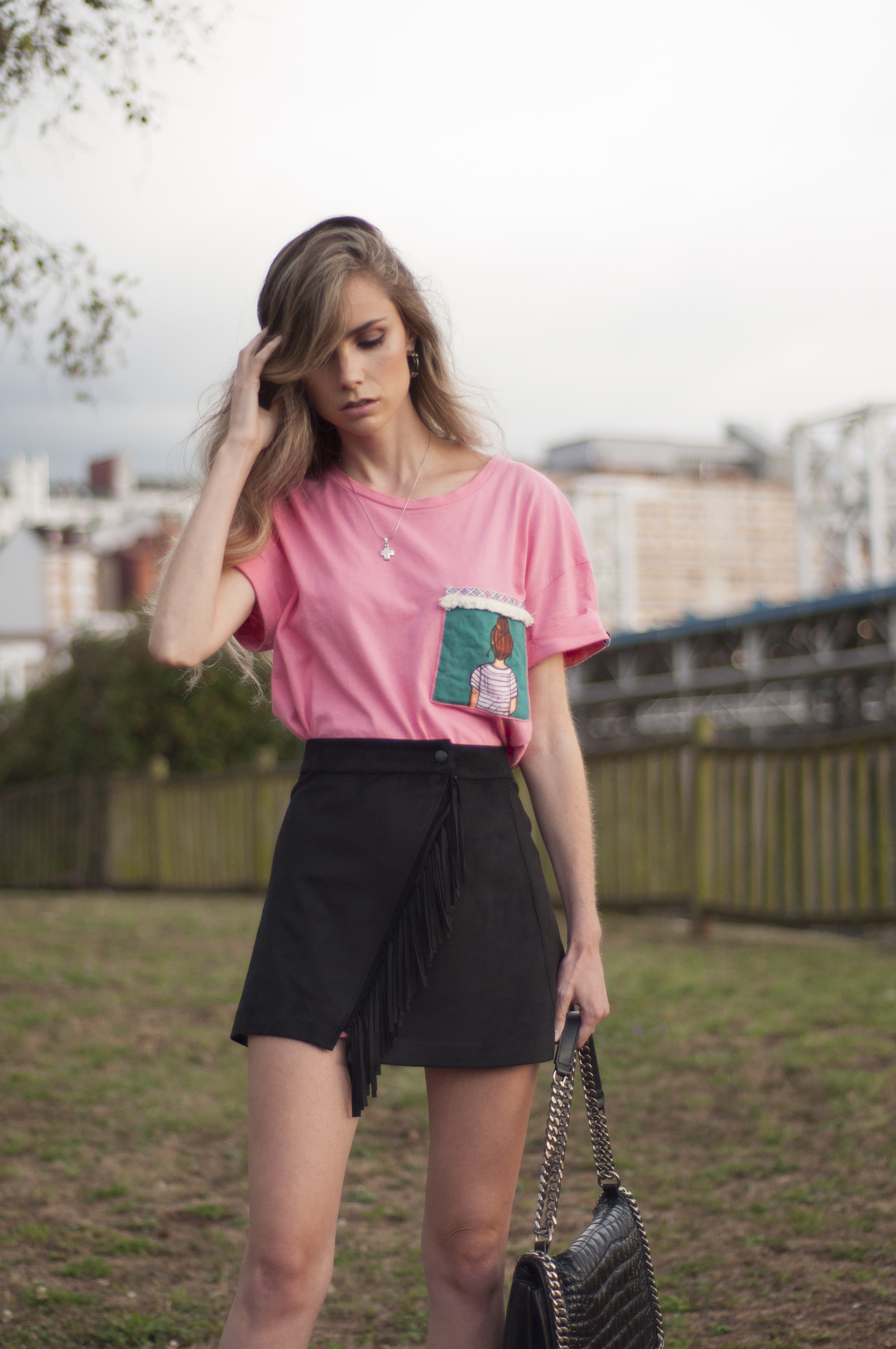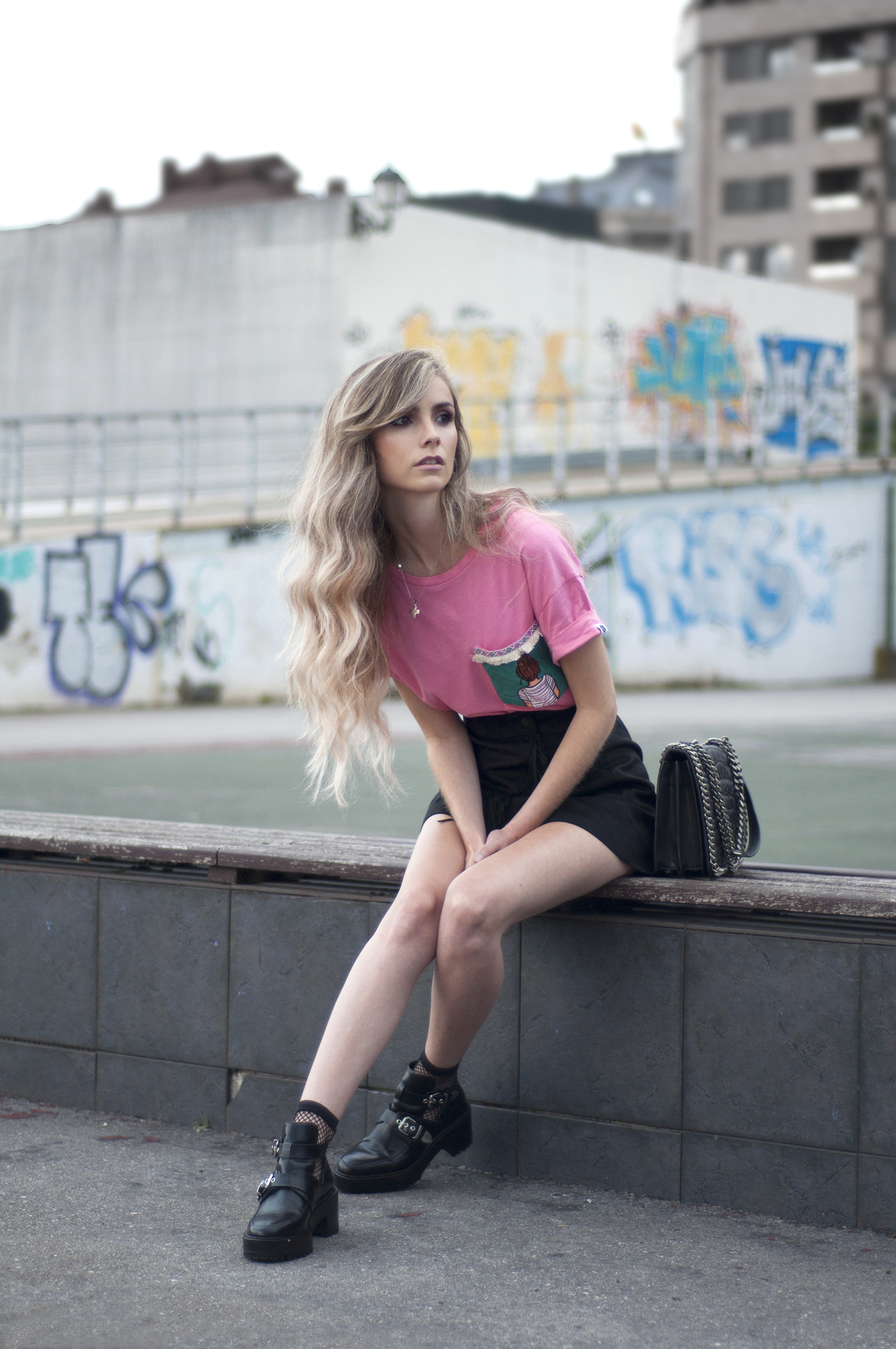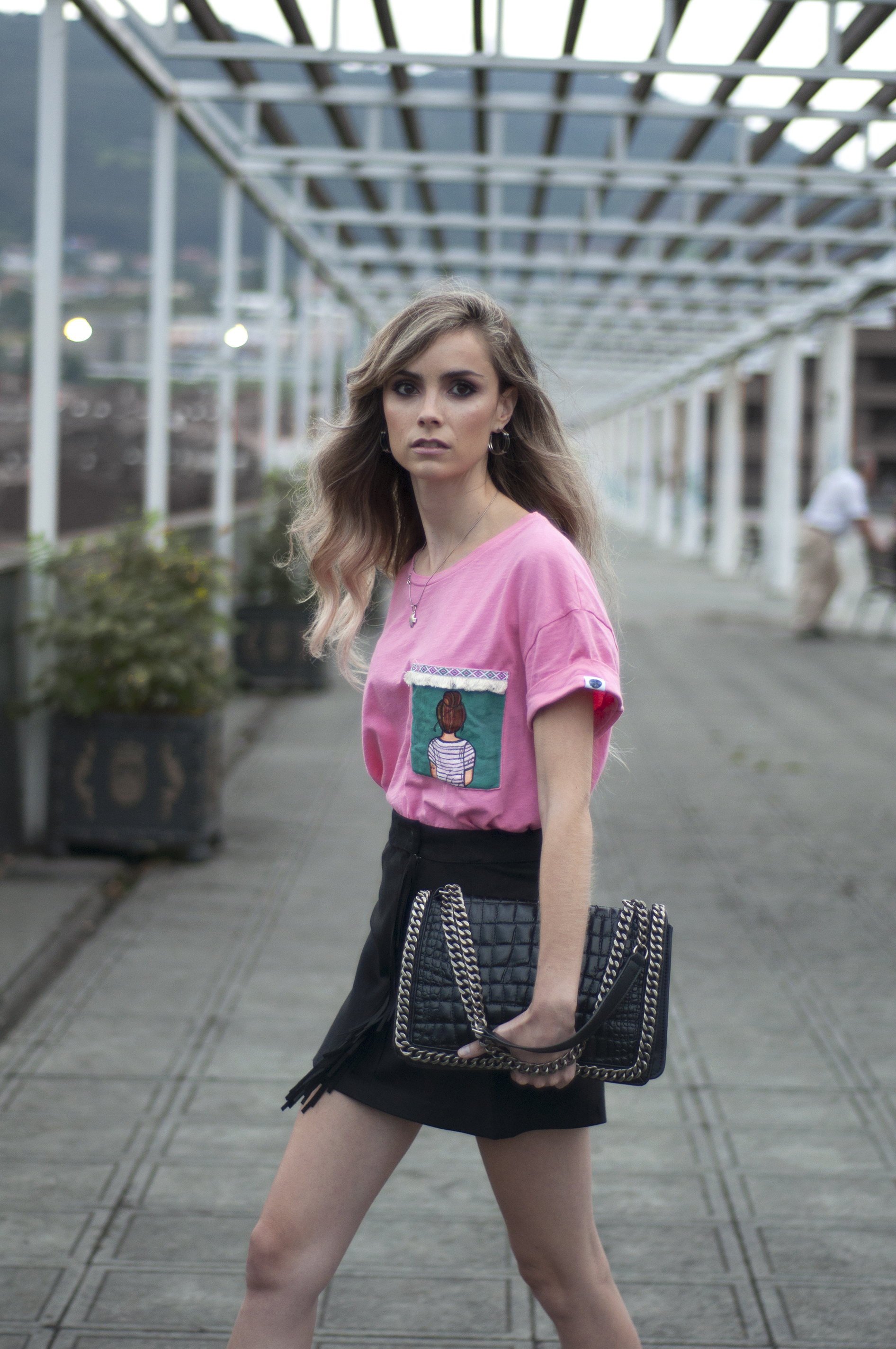 Camiseta/T-shirt: Regaliz Negro
Falda/skirt: Zara
Calcetines de rejillas/fishnet socks: Pull and Bear
Botines/booties: Pull and Bear (old)
Bolso/bag: Zara (old)
Total black 
Un look completo en negro sobre el que destaque un pequeño toque de color. He optado por un outfit con cierto aire hypster, aunque actual. Llevo mom jeans en negro, zapatos Dr Martens y como la camiseta lleva el toque de color en amarillo, lo he aprovechado para combinarlo con gafas de sol tipo aviador en amarillo, que además están muy en tendencia, cinturón con hebilla dorada, y colgantes y pendientes asimétricos también en dorado.
A total black look with a little touch of color. I have chosen an outfit with a more hypster style, but trendy. I´m wearing black mom jeans and Dr Martens shoes. The touch of color of the T-shirt is yellow and I have used it to combine it with yellow sunglasses aviator type, which also are trend, and gold necklaces and asymmetric earrings.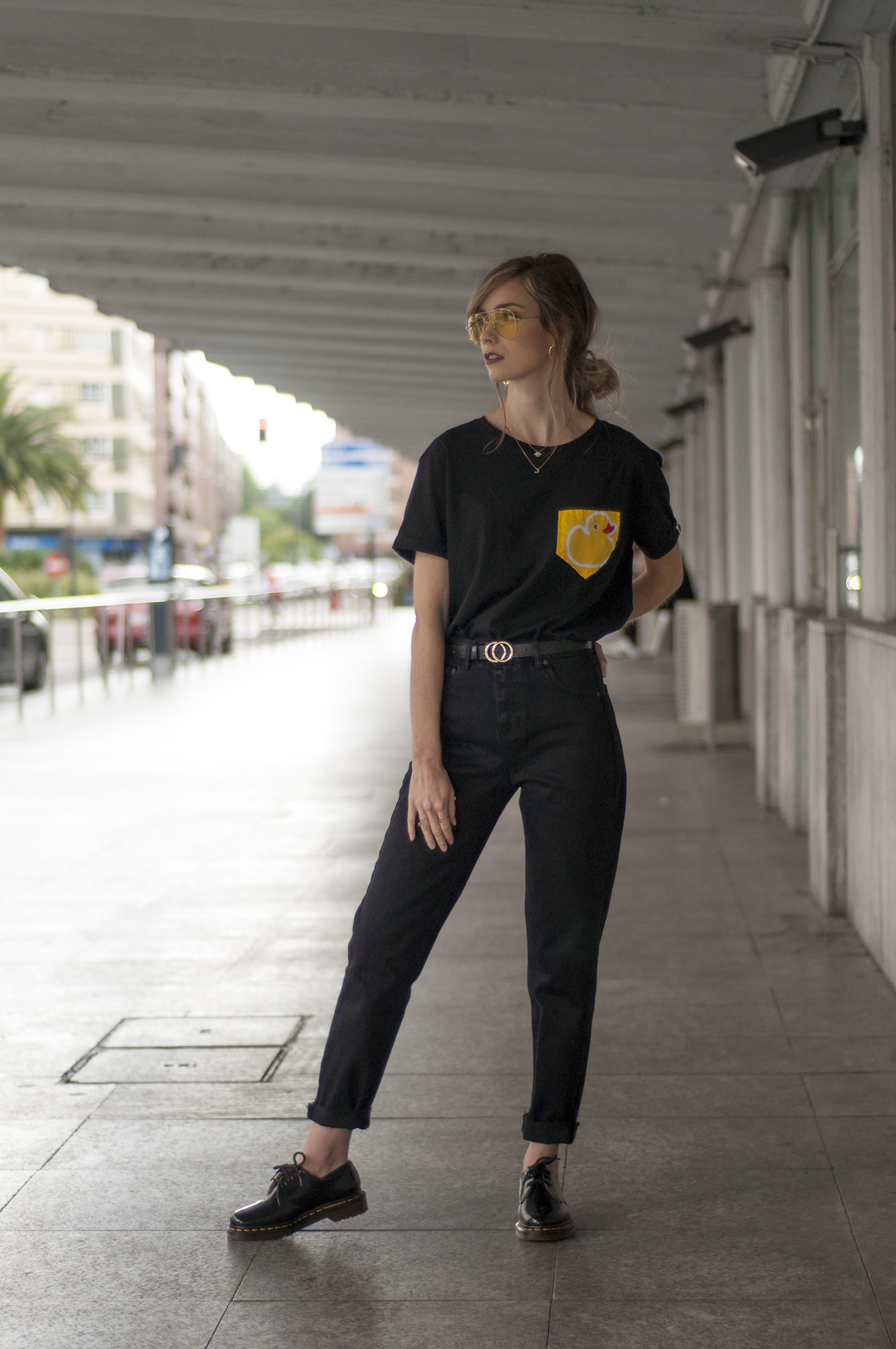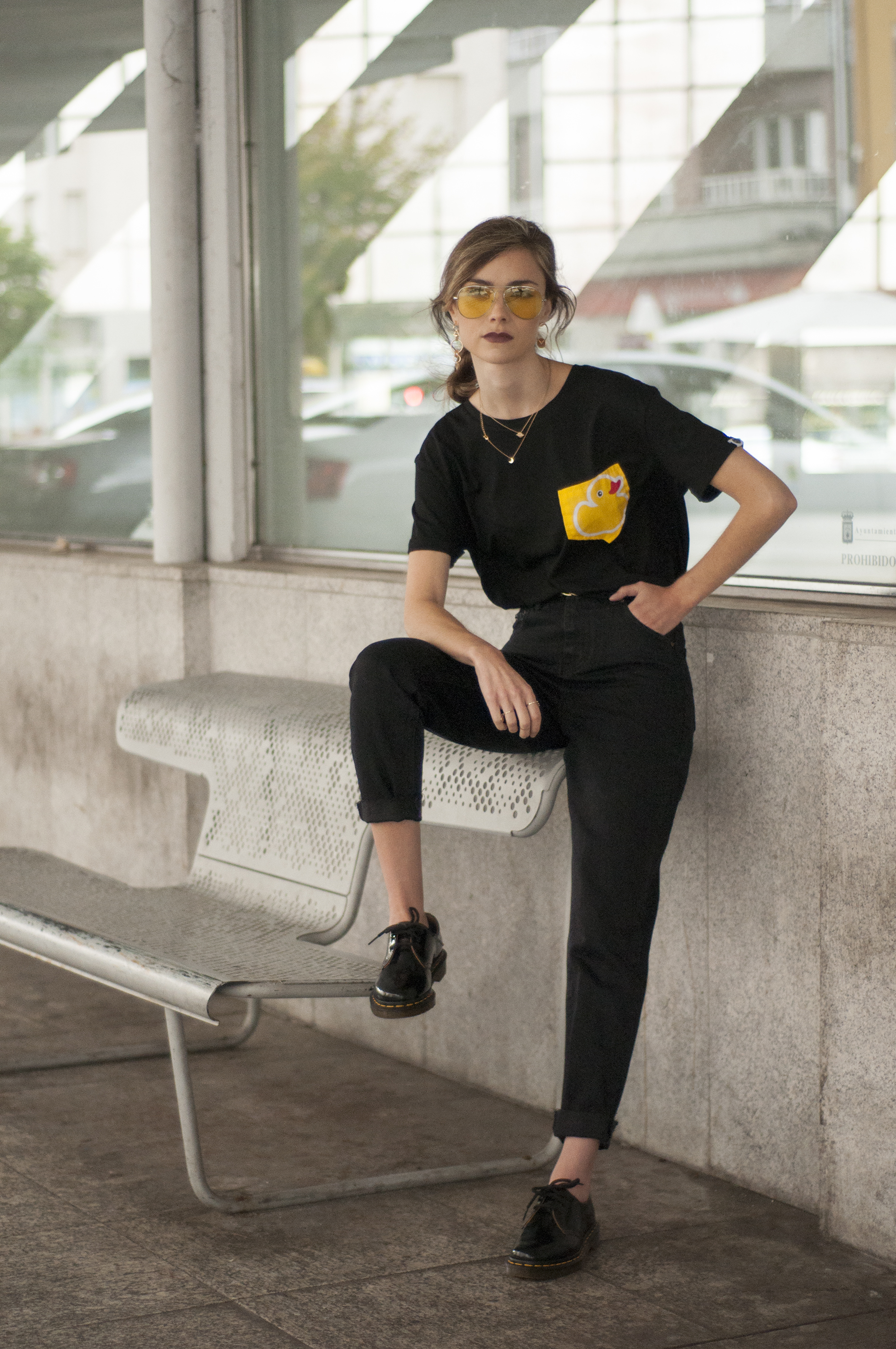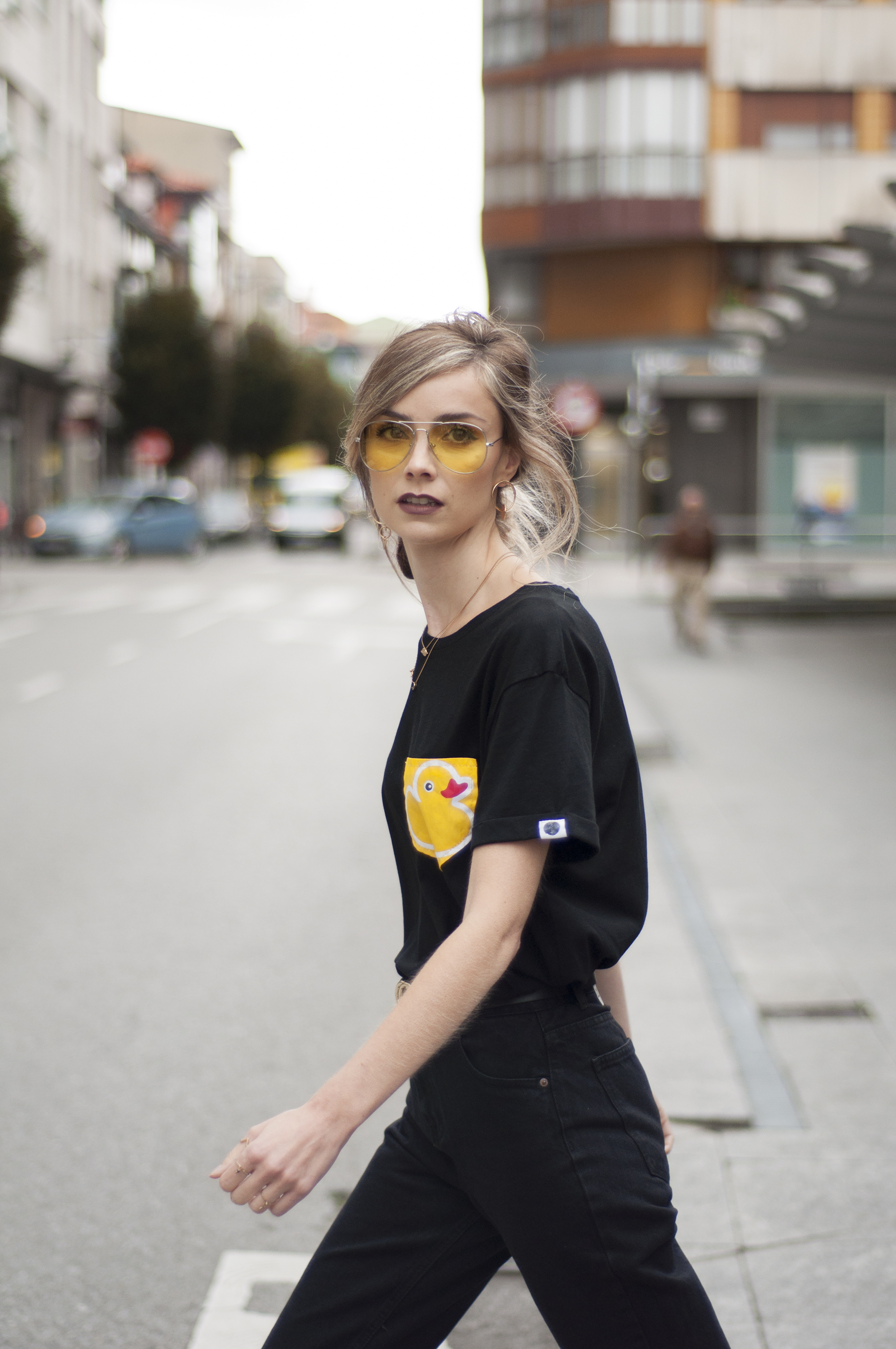 Camiseta/T-shirt: Regaliz Negro
Mom jeans: Pull and Bear
Zapatos/shoes: Dr Martens
Cinturón/belt: H&M
Gafas de sol/sunglasses: Stradivarius
Y eso es todo, espero que hayáis disfrutado con este post y que os haya dado alguna idea para crear looks informales de entretiempo. Muchas gracias por visitar mi blog, os mando un beso muy grande y ¡nos vemos aquí el próximo Domingo! ¡Feliz semana!
I hope you enjoy this post and inspires you to create autumn informal outfits. Thank you for visiting my blog. I send you a big kiss and see you here next Sunday! Happy week!